Welcome to
The Pocket Survival Saw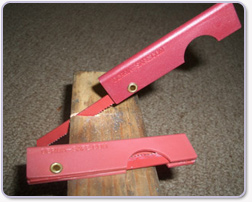 Derma-Safe LLC. has been in business for over 30 years supplying the United States Military with well engineered and manufactured products all made in the USA. We pride ourselves in giving our customers a good quality product. We have over 50 years of experience in the razor blade industry and our company has grown into other fields, survival knives and saws, and aquatic weed control products. We are always working to provide the best in service and quality for our customers and appreciate your business. The Pocket survival saw has two saw types both made of high speed steel by Bosch in 18Tpi and 12 Tpi versions.  The reason we developed this saw was to complement our current knife that uses the same handle.  They are both perfect for survival kits and allow you to have great tools with minimal space required.  Each saw is only 8 grams in weight and lest then 3 inches closed, it will fit anywhere…  The US Military has been a customer of our's since the early 80's,  over the years they have purchased over 15,000,000 of our current folding razor knife.  We hope to provide them  our new pocket survival saw and folding razor knife for another 30 years.
Check out the Youtube Videos that show the Saw in action… http://www.derma-safe.com/videos
Derma-Safe's  SERE Pocket Survival Saw is a perfect addition to any outdoorsmans pack,
Survival Kit or First Aid Kit.
The highest quality High Speed Steel Blade available. Swiss Made saw blade by Bosch
A medium impact plastic handle.
It's a convenient, low cost utility saw. That can replace wire style hand saws..
One hand operation, cuts metals, wood, ice, bone….
It weighs less than 8 grams with a closed length of less then 3 inches.
Made in USA – Blade manufacured by Bosch and is Swiss made.